The Quality Times
The Newsletter of The San Diego Quality of Life Coalition

Welcome!
Welcome to the third edition of The Quality Times, our monthly update on the work of the San Diego Quality of Life Coalition. This newsletter is intended for circulation within our Coalition. The content has not been reviewed or approved by all member organizations for outside publication as Coalition positions. Please pass along to any of your members and volunteers who might be interested.
July is a busy month for the Environment, with many important events coming up.
County Board of Supervisors Meeting July 14
There will be three significant environmental items on the July 14 agenda. Details on how to participate in the meeting can be found on the agenda page.
The Supervisors will consider a path forward for our Regional Decarbonization Framework, the next phase in the County's efforts to achieve zero carbon in the region by 2035. More information on the Framework approach can be found in the official board letter starting on July 7. The Framework is intended to provide science-based pathways for reducing carbon that are tailored to the key sectors of San Diego's economy. It fosters regional collaboration between public agencies, universities, schools, business, labor and communities. The actions on July 14 follow the Board's January 27, 2021 direction to staff to develop the Framework in partnership with the University of California San Diego (UCSD) School of Global Policy and Strategy and the University of San Diego (USD) Energy Policy Initiatives Center. Working together, they will create strategies and initiatives to achieve zero carbon in the region by 2035.
The Framework project will be led by Murtaza Baxamusa. Some of you may remember Murtaza from Coalition meetings. He wants to stay in touch with Coalition members. You can contact him at Murtaza.Baxamusa@sdcounty.ca.gov.
At this hearing, Staff will also provide a progress report on the CAP Update project and provide an opportunity for the Board to hear from the public, ask questions, and comment on the approach to developing new CAP measures for inclusion in the CAP Update, smart growth alternatives for inclusion in the Supplemental Environmental Impact Report, and the approach to public outreach and engagement, with a focus on equity. You can stay involved in the CAP Update project by visiting our project website to follow important news, notices, reports, presentations, workshop recordings, and upcoming outreach and meeting dates.
The Board is also scheduled to hear and consider proposed amendments to the General Plan's Housing and Safety Elements, and the creation of a new Environmental Justice Element. The County of San Diego Planning & Development Services Department (PDS) is in process of updating the Housing, Safety & Environmental Justice Elements. The Housing element provides housing policies and programs to implement those policies. The Safety Element establishes policies and programs to protect the community from risks associated with seismic, geologic, flood, and wildfire hazards. The intent of Environmental Justice is to address long-standing inequities, disparities, and disproportionality in these geographic areas by focusing on key interventions that will engage the community, strengthen existing services, and improve outcomes.
SANDAG Regional Transportation Plan & NAVWAR DEIS
SANDAG is working with the Navy to explore the opportunity to include the Central Mobility Hub on a portion of this site. The Navy is also looking into the development of supportive land uses including housing, office and commercial space and the addition of a direct connection to regional transit services as well as the airport. Mobility hubs are one of SANDAG's tools to help encourage walking, biking, transit, and shared mobility and enhance the movement of people and goods.
Currently, NAVWAR is accepting public comment for its Draft Environmental Impact Report (DEIS). The comment period ends on Tuesday, July 13, 2021.
Attend SANDAG's Public Hearings on the Draft 2021 Regional Plan
SANDAG hosted a series of subregional open houses during the month of June. To see a complete list of meetings held for the 2021 Regional Plan, please visit the San Diego Forward Calendar.
Please consider attending the public hearings scheduled for July.
The Coalition will work on producing public comment talking points as we approach the dates above. Stay tuned!
Overall, the Coalition believes in supporting transportation and/or environmental justice projects, programs and policies that are designed to improve air quality, quality of life of residents and supports climate action objectives.
We want transportation choices and a variety of mobility options for all! Can we count on you?
MEMBER TRAINING
We've had three trainings so far:
April: How to Write a Blog Post

May: How to Write an Op-Ed

June: Effective Public Speaking
Zoom recordings and PowerPoint presentations of the trainings may be found here. Please make sure to download files to your computer for safe keeping.
Our trainings take place on the last Thursday of each month, from 8 – 9 a.m.; the next training is scheduled for Thursday, July 29 and will be a 90-minute training session.
Zoom link information below:
Topic: Mixte + QoL training: Media Training
Time: Jul 29, 2021 08:00 AM Pacific Time (US and Canada)
Join Zoom Meeting
https://us02web.zoom.us/j/86419681511
Meeting ID: 864 1968 1511
One tap mobile
+16699009128,,86419681511# US (San Jose)
+13462487799,,86419681511# US (Houston)
COUNTY CAP UPDATE EQUITY WORKSHOP
On June 2, the County presented an overview of the Climate Action Plan Update, described the County's goals and objectives related to equity, and solicited timely and meaningful feedback from attendees to aid in the development of a more inclusive and equitable process. You may watch the recorded session here.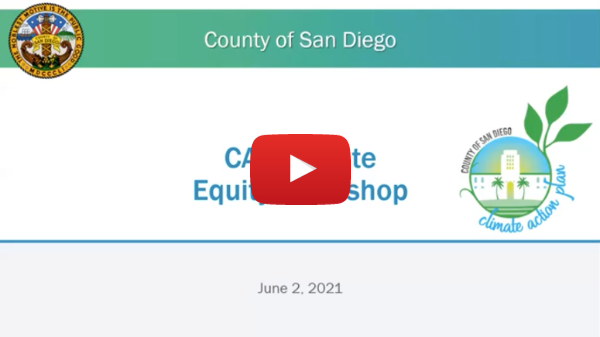 The County will be holding a series of public workshops throughout the year to present project updates and solicit feedback on the CAP Update project. In addition to these workshops, the County will be soliciting feedback in smaller group settings that provide an opportunity for focused discussion around topics that include transportation/built environment, agriculture, conservation, energy/water/waste, equity and environmental justice, and other important topics. If you are interested in being notified of the County's upcoming opportunities to participate, please sign up for their mailing list here.
COALITION ANNOUNCEMENTS
Support San Diego Coastkeeper's Actions in July
Did you know that San Diego's stormwater infrastructure funding and management needs a serious re-do? Read more about the Coastkeeper's stormwater infrastructure campaign here.
Also, make sure to check-out the Coastkeeper's recent blog post about stormwater infrastructure to learn more about this issue.
Would you like to highlight your organization's work in this newsletter?
If you are interested in submitting any content or materials from your organization that you would like to include in the next Coalition newsletter, please email David Grubb at davidzgrubb@gmail.com
Coming Soon: Members-Only Portal on the Coalition Website.
The Coalition is working on developing a members-only portal where you will be able to review past newsletters and revisit member training videos and materials in a safe and secure manner.
Policy Actions in Upcoming Meetings
July 13
Public comment on NAVWAR Revitalization DEIS
Last day to provide public comment | click here for more information
July 14 at 9:00 a.m.
County Board of Supervisors Meeting
Several actions as described above | click here for agenda
July 15 at 1:00 p.m.
Public comment on stormwater infrastructure funding strategy
City of San Diego – Environment Committee | click here for more information
July 16 at 9:00 a.m.
Public hearing and comment on the draft 2021 Regional Plan
SANDAG – Transportation Committee | click here for more information
July 23 at 9:00 a.m.
Public hearing and comment on the draft 2021 Regional Plan
SANDAG – Board of Directors | click here for more details
Sign up to receive San Diego Quality of Life Coalition's monthly newsletter.
The Quality Times Volume 1, Number 3
© 2021 Quality of Life Coalition