On May 28, SANDAG released the Draft 2021 Regional Plan, including the Draft Air Quality Conformity analysis and the Sustainable Communities Strategy (SCS) for public comment on May 28, 2021. The closing date for public comments is August 6, 2021. A response to each comment on the Draft 2021 Regional Plan will be provided in Appendix G—Public Involvement Program of the Final Plan. Members of the Quality of Life Coalition have been reviewing the draft plan and preparing comments.
As we review the draft plan, we have been evaluating how well it conforms to the outcomes that we presented to SANDAG in February in this letter.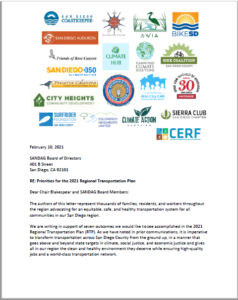 There is still time for you to provide input. You can read the draft 2021 Regional Plan here. You may provide comments using an online form here. In addition to the online comment form, you may submit comments by:
email SDForward@sandag.org, Subject: 2021 Regional Plan Comment,
call 619.699.1934 or toll-free 1.877.277.5736, TTY 619.699.1904,
fax 619.699.1995, or
mail to SANDAG, 401 B Street, Suite 800, San Diego, CA 92101.